The HydraFacial is a patented skin treatment known for its three-step process, the HydraFacial works to deep-clean, exfoliate, and hydrate your skin. This professional procedure may help treat a variety of skin concerns, including acne, pigmentation, and anti-aging.
The HydraFacial helps to improve overall skin texture, tone, and appearance. This is due to the deep exfoliation that cleans your pores, removing debris and allowing for better penetration of face serums tailored to your skin type.
The noninvasive procedure is similar in principle to a regular facial treatment but it provides more dramatic results. This is achieved by a mechanized wand used on your skin to deeply clean and exfoliate while delivering serums customized to your skin type.
HydraFacial super serums are made with nourishing ingredients that create an instantly gratifying glow in just these 3 steps:
Have a Specific Skin Concern?

HydraFacial has you covered with boosters to address:
- Hydration
- Brightening
- Smoothing and Refining
- Restoring and Firming
HydraFacial Treatments Packages We Offer
Signature HydraFacial (30min)
This treatment focuses on deep cleansing and extracting impurities from the skin while packing skin with hydration with the use of utilizing super serums filled with antioxidants, peptides, and hyaluronic acid. With this treatment, you can choose to add extended extractions and experience the blue LED Lights that target any impurities or acne-causing bacteria that may be present in the skin. A Britenol boost super serum can also be added, which helps to reduce the appearance of dark spots.
Deluxe HydraFacial (45 min)
This treatment package is all about anti-aging and bringing that youthful glow to the skin. This treatment includes all of the steps included in the Signature HydraFacial, with the addition of the DermaBuilder booster serum which helps to reduce the appearance of fine lines and wrinkles and plump up the skin. With the Deluxe treatment alternately red LED lights are used as they have anti-aging and skin rejuvenating properties.
Platinum HydraFacial (60 min)
This treatment is the ultimate HydraFacial experience. It includes a relaxing lymphatic drainage at the beginning of the treatment to begin the detoxification process + the Deluxe HydraFacial to deeply cleanse, extract, and hydrate the skin while addressing specific skin concerns to the patient using booster serums and their choice of LED light therapy to end off the treatment.
Additional HydraFacial Treatments We Offer
Clarifying HydraFacial Back Treatment (30 min)
Helps reduce and prevent imperfections and break outs on the back with the detoxifying and extraction properties of the treatment.
HydraFacial Perk Eye Treatment (10 min)
• Brightens, tones, and firms the outer eye.
• Improves skin hydration.
• Gently removes surface layer dead skin cells.
Lip Perk Treatment (10 minutes)
• Lightly plumps lips.
• Gently exfoliates to smooth lips.
• Hydrates lips.
(Includes a take home serum)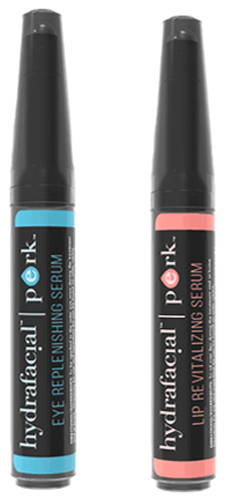 HydraFacial Hand Treatment (20 min)
As we all know the first sign of aging happens in the hands. This treatment aims to slow the signs of aging in the hands by focusing on rejuvenating the skin and the use of our anti-aging serums.